Blueprint for Inclusion
Hear Me, See Me, Accept Me
The BIG PICTURE with Blueprint for Inclusion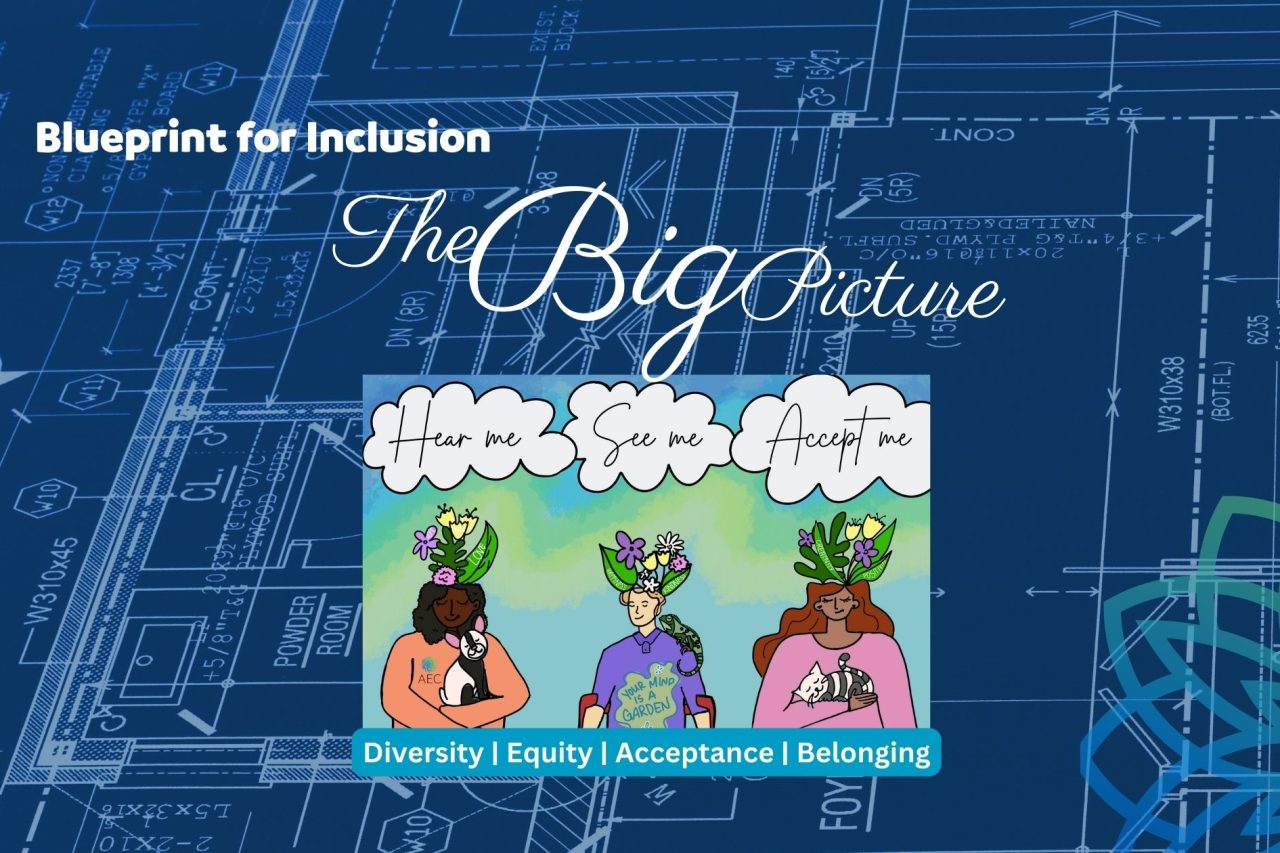 Adult Enrichment Centers is proud to launch the Blueprint for Inclusion to serve as our community guide for building acceptance and belonging for people of all abilities through creative collaboration featuring the arts, pets, and access to mental health services in our area.
We intend that these initiatives will inspire others to consider the important role that animals can play in promoting mental wellness and inclusivity, and to advocate for the rights of individuals with disabilities as we build out the BIG PICTURE with the Blueprint for Inclusion.
Step 1
In April, a new collaborative art project in partnership with NAMI of the Piedmont-Tri-County, funded in part with a grant from the Arts Council of York County, will be aimed at promoting mental wellness and inclusivity that will delight all those who understand the unique relationship between us and our pets – a true sense of acceptance and belonging like none other.
Titled "Hear Me, See Me, Accept Me", this project seeks to explore the healing power of animals and art, as well as raise awareness about the challenges faced by individuals with disabilities for acceptance and belonging. We consider this step a key element in building a fully inclusive community for all people. Our project uses creativity to express the ways in which pets can bring joy and comfort into our lives and improve our mental health with their unconditional acceptance in the process.
Join Us!
We invite you and your furry companions to join us at one or more scheduled activities to create the BIG PICTURE for inclusion beginning with a collaborative public art project that showcases the unique bond between pets and their families. This progressive public art mural creation will depict how this connection can positively impact mental health and well-being, and can provide life lessons for us all on acceptance and belonging.
Whether you're someone who loves art, a pet lover, or someone living with a disability (or all three!) we want to connect with you to expand the definition of inclusion in our area. Please plan to attend our public art creation days which will result in the BIG PICTURE 'Hear Me-See Me-Accept Me' artwork to be featured in a public exhibition where visitors can learn more about the project and its message throughout 2023.
Upcoming Events
If you or your group is interested in participating, please contact Morgan Miles, School of the Arts Coordinator at 803.702.5625 ext 6007. We look forward to collaborating with you on creating the BIG PICTURE for Inclusion!